加拿大办公室设计-canadian Tech office design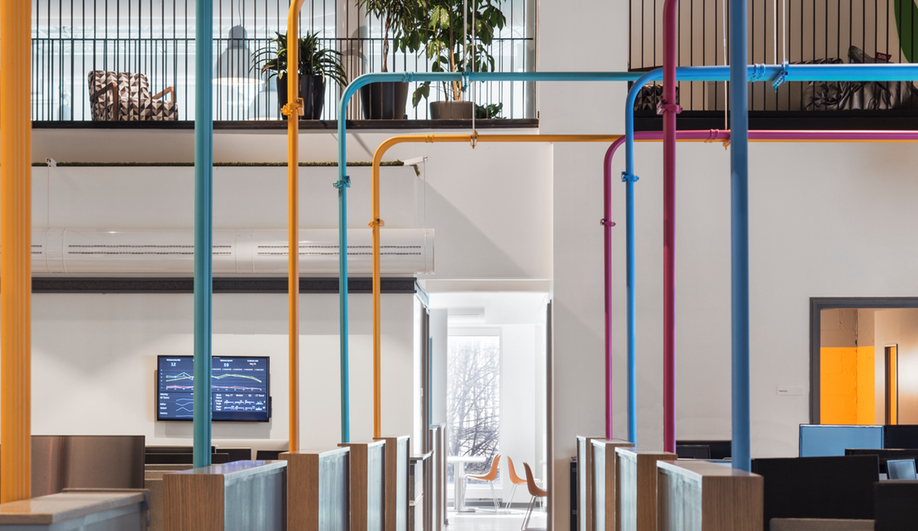 加拿大设计工作室Linebox给数据公司 Klipfolio 设计了展新办公室
Klipfolio 公司老板发现员工在公司通道上讨论的时候就决定改造公司啦,请了加拿大知名设计公司Linebox进行设计。
该办公室的特色是非常开放,而且为层高很高的办公室设计了小隔层,扩充了空间,有更多的空间可以开会;另外还设计了静音办公室, 另外电线也隐藏在彩色的管道里面,也非常具有装饰性,是一个非常成功的办公室设计案例。
the space's defining features were borne of challenges. Due to the double-height ceiling, Linebox was able create workspaces on mezzanines, install a splashy mural and create an open-concept core with sprawling views.
A custom-made feature staircase (above) is one of the firm's biggest additions. But its most whimsical may be the colourful conduits that rise above workspaces, which responded to a constraint: Linebox wasn't able to cut into the space's floor slab, so it opted to run data and power cables through conduits it painted to match Klipfolio's dashboards. It resulted in a colourful "feature avenue" that adds intrigue to the work stations below.
Throughout, the "beauty of this bare but oh-so-interesting space" was exposed, but there are also a number of other surprising touches – like Klipfolio's old office signage, which sits in the centre of an open workspace.
Each colour was hand-picked. Each light fixture was debated." The result isn't only splashy colours. Klifolio's office also has intimate meeting spaces tucked under mezzanines and workspaces with muted palettes – resulting in a playful interior that isn't overbearingly extroverted.