瑞典隔音板品牌Baux的简约办公室展厅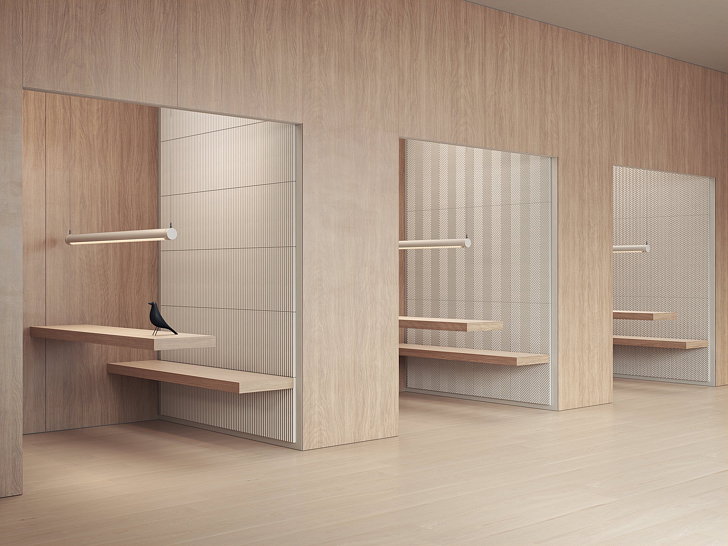 瑞典隔音板品牌Baux 最近推出了天然环保的隔音板'Acoustic Pulp' 系列…
BAUX has launched, 'Acoustic Pulp,' a series of nine, 100% bio-based and biodegradable acoustical panels that push the boundaries of sustainable building materials to a completely new level. The collection is the first in the world to uncompromisingly combine the high-performance properties of sound absorption, safety, and durability with modern aesthetics and sustainability.
"In the face of climate change, environmental pollution, and excessive consumerism, we as an industry can no longer afford to ignore the part we play," CEO of BAUX, Fredrik Franzon stated. "Designing and prototyping for the future is not enough. We need to create a sustainable future today. The new BAUX Acoustic Pulp is the result of our deep commitment to this vision."
The new BAUX Acoustic Pulp was developed in collaboration with Form Us With Love and a high-tech life science laboratory that works with biomimicry to organically modify cellulosic fibers from recycled streams of Swedish pine and spruce trees.
source from dexigner
供应商方式:
总部:
BAUX AB
Östermalmsgatan 26a
114 26 Stockholm
Sweden
+46 8 21 07 07
info@baux.se
上海:
Shanghai
Innovasia
Max Fung
shanghai@baux.se
P +852 2264 6334