美国传媒巨头Viacom Office in Los Angeles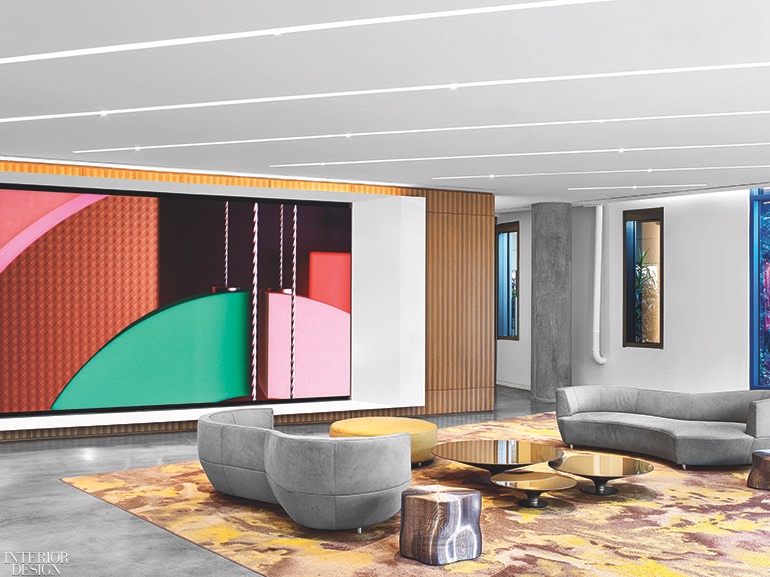 美国设计工作室Rottet studio为全球第四大传媒巨头Viacom设计了其洛杉矶的办公室
source from Interior Design.
这个办公室是一个时尚,靓丽而又非常质感的结合,配着高端设计师家具,顶级的灯具和地毯品牌,相关而又有意义的数码艺术品等等
Near conference rooms, a lounge centers on a table by Marc Thorpe Design.
Laminated glass encloses the main presentation room.
From reception, a painted steel staircase rises past an MDF slat wall washed by LEDs.
Neon signage in the ground level's elevator lobby is custom.
Orchestral Cacophony by Novo Arts overlooks a Timothy Oulton sofa and a Patricia Urquiola rocker in a lounge.
In an elevator lobby, MTV's logo appears on fabric stretched over a light box.
Changing arrays of framed posters face office areas with sit-stand workstations by Charles Rozier and Robert Reuter.
Rubber tubing and a painted steel grid compose Novo Arts's Digital Weaving, installed in a lounge.
In a corridor, Novo Arts affixed toy cars to a photographic print for Highways.
Eero Saarinen's side table stands beneath artwork by Viacom creatives in a break-out area.
LED panels form different messages behind tinted glass in the lobby.
Stools by Erika Kövesdi line the café's 35-foot-long counter, composed of five ganged segments in solid-surfacing and brushed stainless steel.