美国艺术家米娅的robots 情怀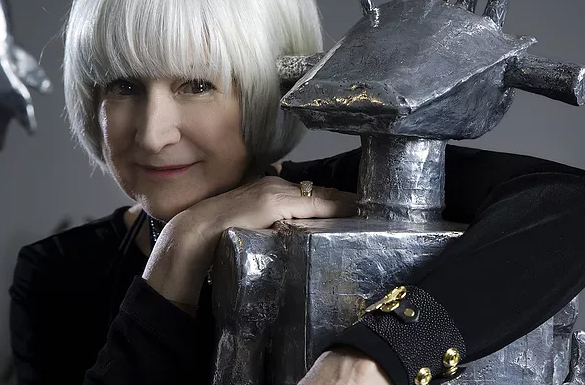 Mia Fonssagrives Solow(米娅·芳夏格里芙·索洛),目前定居在纽约,是一位美国艺术家兼设计师
此文章转载于杜梦堂
Mia Fonssagrives Solow(米娅·芳夏格里芙·索洛),目前定居在纽约,是一位美国艺术家兼设计师。因其趣味与优雅兼具的标志性创作语汇而闻名,具象与抽象的手法都为其所用。作为著名摄影师Fernand Fonssagrives(费尔南德·佛萨格弗斯)和偶像级超模Lisa Fonssagrives(丽莎·芳夏格里芙)的女儿,以及时尚摄影师Irving Penn(欧文·潘)的继女,艺术家自出生起就享有得天独厚的艺术设计氛围,并延续着这份来自家族的精神遗产,成为了广受业界好评的雕塑家、画家与珠宝设计师。 Fonssagrives Solow在巴黎与美国多地举办展览,与此同时,她的作品也曾被Artnet,Artsy,Vogue,Vanity Fair,Departures,Harper's Bazaar和Artnet等众多出版物报道。
Mia Fonssagrives Solow is an American artist and designer based in New York. She is internationally renowned for her signature bold aesthetic in both figurative and abstract forms. As the daughter of renowned photographer Fernand Fonssagrives and iconic supermodel Lisa Fonssagrives, as well as the step-daughter of fashion photographer Irving Penn, Mia was born into and molded by a world of art and design. She continues to build upon this legacy as a lauded sculptor, painter and designer of fine jewelry. Fonssagrives Solow has exhibited work throughout the U.S. and Paris and has graced the pages of many lauded publications, such as Artnet, Artsy, Vogue, Vanity Fair, Departures, and Harper's Bazaar. 
米娅·芳夏格里芙·索洛(Mia Fonssagrives Solow)在上海的杜梦堂首次个展"闪亮异形"(Bright Wild Things),将展出艺术家最新创作的一系列雕塑作品,其图腾式风格的灵感来源于早期现代主义、西方神话、部落文化以及未来主义肖像。
The Solo Exhibition of sculpture by internationally renowned artist Mia Fonssagrives Solow is presented Galerie Dumonteil Shanghai,For this exhibition of new works, Galerie Dumonteil will present at the Shanghai gallery a group of pieces imbued with a totemic presence whose inspiration lies in early modernism and mythology, as well as futuristic iconography. 
这些雕塑的原型通常由艺术家搜集的回收物件组装而成,包括各类家用废弃物如塑料瓶罐、报纸简报、纸板和绳索等。这些具有男性、女性以及动物特征的机器人由铜、铝铸造而成,经高度抛光,共同呈现出一个属于混合物种的奇妙世界。作品强烈的金属质感让人联想起早期好莱坞电影《绿野仙踪》中的"无心锡人", 其独特迥异的造型则激起了我们在人工智能呼之欲出的今天对未来世界人类生活的无限遐想。
The sculptures assembled from recycled scraps evoke an animistic world of hybrid creatures composed from discarded household items such as plastic jugs and bottles, written material (newspaper clippings), cardboard and rope. From these materials the masculine, feminine and animalistic robots are then cast in highly polished bronze and aluminum bringing to mind both the representation of robots in early Hollywood films, such as The Tin Man, and a future where all things may become imbued with a life of their own. 
芳夏格里芙·索洛的这些超脱寻常的未来主义动物寓言实则与艺术家的个人生活密切相关,是其个人情感寄托的产物。许多作品犹如肖像般唤起艺术家的特定回忆。艺术家曾在《白壁》杂志的采访中提到"这些机器人是在我生活中真实存在的人。每一个都特立独行,让你印象深刻!"
These extraordinary futuristic animal fables are closely related to the artist's personal life stemming from her feelings and emotions. Many of them evoke the artist's specific memories as if they were portraits, as she mentioned in an interview with the Whitewall magazine, "These robots are people in my life. They all have their quirky ways about them. They're all characters!"
本次展览通过作品形态与材质的多样性,将我们熟悉的日常物件转化为散发着金属光泽的"异形",芳夏格里芙·索洛用幽默的方式表达,展现了其对远古自然界和人类历史进程的思索,并在现代工业化背景下放大和重塑了人与其所创造的象征图像之间的关联,邀请观众共同进入由艺术家及其作品组成的充满个性和活力的"异形"世界。
Through the diverse nature of forms and materials in this exhibition and in a humorous way, Fonssagrives Solow transforms the quotidian into bright wild things that examines the ancient natural world and the history of mankind, while amplifying and reshaping the connection between humans and the symbolic images they create for a modern, industrial age. Solow invites the audience to immerse in a world woven by the stories of her life and the art she creates, vivid, dynamic and full of personality.